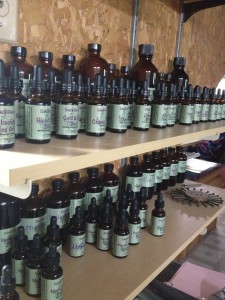 Herb Haven offers a wide variety of tinctures and glycerites under the label Suki's Blends. They are lovingly handcrafted here at Herb Haven.
My plant extract formulas are prepared in small batches, specially formulated to maintain and restore optimal vitality and health. We choose  plants at their peak of potency and blend them especially for you.
Suki's Blends Tinctures and Glycerites are sold in 1 oz, 2 oz and 4 oz bottles.
1 oz is $11/oz or $11.
2 oz is $9.75/oz or $$19.50
4 oz is $9.00/oz or $36.00
The formulas listed below are our standard formulas available at local health food stores & health practitioners' offices. I am also available to customize tincture formulas designed specifically for you upon request. CONTACT me to discuss ordering pre-formulated or special blends. 
---
Tinctures
Suki's Blends offers simple tinctures and over twenty compound tincture formulas, including:
ABSOLUTE STRESS ARREST
*An anti-anxiety supreme. (kava kava, st. johnswort, five flower formula by FES)
ALLERGY RELIEF
(goldenrod, fenugreek, elecampane, ground ivy)
BLOOD SUGAR BLUES
*Blended to stabilize blood sugar levels. (dandelion root, holy basil, devils club, cinnamon bark)
COLD & FLU  SHOO
*Chase away those aches, pains and symptoms of the common cold & flu. (mullein, elecampane, echinacea, chaparral, boneset, oregon grape root)
CRAMP EASE
*An all around general anti-spasmatic formula. (crampbark, meadowsweet, skullcap, lobelia)
DEEP SLEEP
*Formulated without Valerian to facilitate a deep restful sleep. (chamomile, california poppy, kava, passionflower)
DETOX FORMULA
(milk thistle, turmeric root, dandelion root, burdock root)
DIURETIC COMPOUND
(dandelion leaf, goldenrod, horsetail, hydrangea root, cleavers)
DIGESTIVE BITTERS
*Bitters stimulate digestion and support absorbtion and elimination. (gentian, fennel, feverfew, angelica, dandelion root, orange essential oil)
FOCUS FORMULA
*For enhanced concentration and brain tonic. (gotu kola, holy basil, lemon balm, wood betony, ginkgo biloba, rosemary)
FRUITFUL FEMALE TONIC
(Shatavari, Dong Quai, Oats, Ashwaganda, Schizandra, Licorice)
GENTLE GLADDENING HEART
*Blended to help support the grieving process after loss and emotional trauma. (hawthorn, lemon balm. five flower formula)
IMMUNE & ADRENAL TONIC
*A blend of adaptogens to balance, support and nourish vital body systems. (eleuthro root, astragalus root, schizandra)
IMPROVE YOUR PAP
(echinacea, Oregon grape root, licorice, calendula, blue vervain)
JOY FORMULA
*Anti-depressant, Anti-anxiety, balance and enhance mood. (holy basil,oats, st.johnswort, wood betony)
LABOR & DELIVERY SUPPORT
*A blend to facilitate and support the birthing process. (black cohosh, blue cohosh, partridge berry, motherwort, dong quai, lobelia)
LIVELY LIBIDO
*One formula for women and one for men. Inquire if interested.
LYMPHATIC VIGOR
*This compound formulas stimulates lymphatic drainage. (red root, red clover, cleavers, poke root, chaparral)
MENOPAUSAL RELIEF
*A hormonal balancing blend to ease the complaints of menopause. (chaste berry, black cohosh, motherwort, skullcap, st. johnswort)
NERVOUS SYSTEM RESTORATIVE
*A blend to nourish and restore optimal health for the nervous system. (ashwuganda, oats, skullcap, passionflower, lavender)
NERVOUS SYSTEM & ADRENAL TONIC
*Formulated to tonify and strengthen the nervous and endocrine  system. (holy basil, ashwaganda, oats, licorice, schizandra)
PAIN-FREE
*For the temporary relief of acute and chronic pain. (willow bark, meadowsweet, indian pipe, passionflower, st. johnswort)
RED TENT
*Blended for relef of PMS symptons. (vitex, black cohosh, motherwort, st. johnswort, skullcap)
SLEEP TIGHT
*Enjoy this blend for its ability to facilitate a restful night's sleep. (valerian root, passionflower, wild lettuce, meadowsweet, chamomile)
UTI RELIEF
*Blended to relieve the symptoms and duration of urinary tract infections. (pipsissewa, uva ursi, kava, cornsilk, cleavers, usnea)
VIRAL RIVAL
*A preventative blend for exposure to viral infections. (echinacea, astragulus, elderberry, lemon balm)
LIVER & GALLBLADDER TONIC
(fringe tree bark, dandelion root, celandine root)
PARABANE
(Wormwood, Black Walnut, Elecampane, Ginger Root, Cloves)
POTENT MALE TONIC
(Saw Palmetto, Eleuthro, Astragals, Oats, Dong Quai, Cinnamon)
PHYTOCALM
*Soothing mood complex (skullcap, motherwort, wood betony, blue vervain, lemon balm)
SMOKE BUSTER
*helps with nicotine withdrawal ( Lobelia, Oats, Kava, Passionflower)
URINARY PAIN FREE
*Intersticial Cystitis (agrimony, corn silk, cleavers, hydrangea root, kava, pipsessewa)
Glycerites
Glycerites are a tasty and alcohol-free alternative to alcohol-based tinctures. The following glycerites are available from Herb Haven:
Catnip
Elderberry
Lemon Balm
Milky Oats
Please note: In order to keep the personal connection that is the basis of community herbalism, we do not sell these products over the internet.  They are available at local health food stores and clinical practitioners' offices and by special order. CONTACT us today for more information.