Speaking/Teaching Engagements
October 2018
My offerings for this years classes are to be announced soon…looking forward to another wonderful weekend full of herbal discovery.
---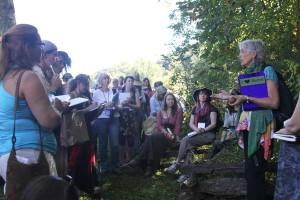 Classes & Events at Herb Haven
Creating Your Medicinal Herb Garden: How does your garden grow?
Saturday FEBRUARY 24th 10-12am
Have you found yourself wanting to create and grow your own medicine garden, but feel overwhelmed by these questions?
What plants to choose
Annuals or perennials
What type of sun exposure is needed
Do I start with seed or plant
When to plant
How to lay out my beds
These and many other topics will be discussed. Come and join me for a day of exploration into the joys and wonders of growing medicinal plants. We will visit Herb Haven's medicinal gardens and over tea discuss how to start planning for your own medicine garden. This class is for beginners and seasoned gardeners.
Handouts and extensive resources included. Cost: $30.00
To register or for more info contact: Suki Roth sukiroth48@gmail.com or phone 336-376-0727
---
Preparing Medicinal Tea
Saturday March 24th 10am-12pm
Through the years of seeing clients and teaching classes I have noticed that many people are confused as to how to properly prepare medicinal teas.
Do you know the difference between a cup of regular tea and a cup of medicinal strength tea?
Come join me for a morning of exploration in the art of creating strong and healing medicinal teas.
In this class we will cover the different types of tea preparations.
What exactly are Infusions? Decoctions?
How to extract the most medicine from the different parts of plant material: Flower, Leaf, and Bark and Berry.
The proper time durations for tea strength
What and when to use steeping vs. simmering.
The best utensils to use.
We will also cover ways to prepare herbal syrups.
COST: $30.00
To register or for more info contact: Suki Roth sukiroth48@gmail.com or phone 336-376-0727
---
Wild Edible Feast
Date: Our spring brought such unstable weather…we could not schedule our annual edible feast this year…
LETS EAT WILDLY… Early spring offers us a large palette of wild edibles. These tasty wild treats help us move from our heavier winter diets to preparing us for the summer season. Eating correctly for the seasons supports overall well-being.
We will be exploring the garden, forest and yard at Herb Haven and learning about the wild edibles that surround us every day! Together we will gather and prepare a yummy WILD lunch to enjoy with one another. Emphasis will be on techniques for gathering and preparing the specific medicinal/edible treats that the Spring season brings. Bring your appetite as we will share a YUMMY LUNCH!
Cost: $50.00 includes handouts.
To register or for more info: email sukiroth48@gmail.com.
Class size will be limited, so register soon!
---
Preparing Medicinal Oils & Salves
Date: TBA


Join me for a fun, informative herbal immersion into the joys of creating medicinal oils. Leave Herb Haven with a basket full of infused oils & salves. We will take an herb walk to meet the many leaves, flowers and berries that this season offers. This is a hands-on workshop, learn the most effective way to create your own medicinal infused oils for use in lotions, salves, massage and cosmetics. We will be using a variety of different techniques. Leave Herb Haven empowered to make your own supply of medicinal oils. This workshop is a annual favorite…be sure not to miss it.
COST $55.00 (includes all supplies and in depth hand-outs)
Preparing Plant Tinctures – Hands-on class
Date; TBA


Join me for a day of herbal discovery. Making herbal medicine in tincture form will be the focus of our day. We will be using a variety of plant material. Learn to use roots, berries, flower and leaf in tincture form using the folk and scientific methods of preparation. Cost will include all supplies and extensive hand-outs. Looking forward to sharing this fun informative day with you…Blessings Suki
COST $75.00 (includes all supplies and in depth hand-outs)
---
Community Garden Workdays
Dates: TBA
SATURDAYS 9am-12pm (adult activity only)
The Herb Haven garden is a community effort. Join us in good fun and heart-work as we tend the garden together. We try to host at least one Community Garden Workday per month during the spring/summer/fall. No registration required.
Moonlight Tree Tea Ceremony
8:00pm – 10:00 pm – Date: TBA
Join me and Riverdave Owen as we celebrate our connection with the native trees of Piedmont North Carolina. For this second season of ceremonies, we are offering the following opportunities on weekend dates closest to the full moon as possible.
Our format will be to gather round the evening's focus tree located on Suki's Herb Haven property, and then partake of medicine teas prepared from the twig bark. We will lead the evening with guided drumming, singing and meditation. You will be pleasantly surprised to find these tree teas to be naturally sweet, full of wild energy and native intelligence.
Those from all persuasions of Planet Earth reverence and meditation are invited to join this experience of intuitive learning directly from these trees. We have also sent out invitations to resident vocalist coyotes, owls, cuckoos, frogs, crickets and katydids to accompany us as well.
Please contact Suki to register. • Cost: by donation
Tree Camp at Herb Haven:
The Trees of the Haw River Valley
Date & Time: TBA
Join me and Riverdave for this early Fall Tree Camp session at Herb Haven. Suki will give hands on instruction on how to make a medicinal tree bark tea that we will then drink together. Herb Haven is located on six beautiful acres of rolling hills south of Graham, North Carolina, in Alamance County . Registration is through Riverdave's contact page. Participants should print out and bring the checklist TREES AND SHRUBS OF PIEDMONT NORTH CAROLINA with them. For additional information on Riverdave or the Tree Camp please visit www.theborderlife.com.
Cost: $20.00
---
Promoting vitality and health through a loving connection to nature.
Blessings,
Suki